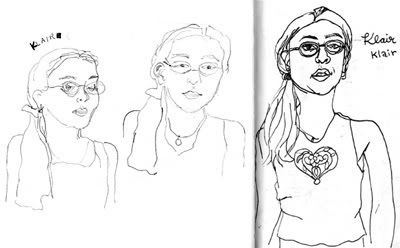 a couple of years ago, my wife and i arrived too early to a zine symposium. to kill time, we walked to the nearest park. christine sat on the swings. i took a nap on the monkey bars. klair (portrayed above by christine, christine, and me) approached my wife and they made friends.
a few hours later, i was working my table at the zine convention. klair glided by on rollar skates. she looked at my books and asked "did you draw these?" yes. "will you draw me?" sure. while klair sat for me, she farted. "did you hear that?" she asked. yes. "what do you think it was?" the chair? "yeah," she agreed, "it was the chair." i drew two portraits and gave klair the better one.
christine returned from a snack break and drew klair also. klair couldn't wait to draw too. i especially enjoy her take on christine's dimples.