my sister, lali, is a fantastic model. when we were growing up, she would drop almost anything to pose for me. my favorite example being a time that she stepped out of the shower to take a phone call but sat down ~ soaking wet ~ for a portrait when i told her that her hair looked cool. besides this willingness to be drawn, lali has a talent for being still without being rigid that is a rare treat for artists.
despite her talents as a model AND her natural talent for art, lali is reluctant to draw. she seems to enjoy the process but hates worrying about the product. so, she tends to stick to drawing exercises (like blind contour), creating iconic drawings, and experiments like this portrait of me.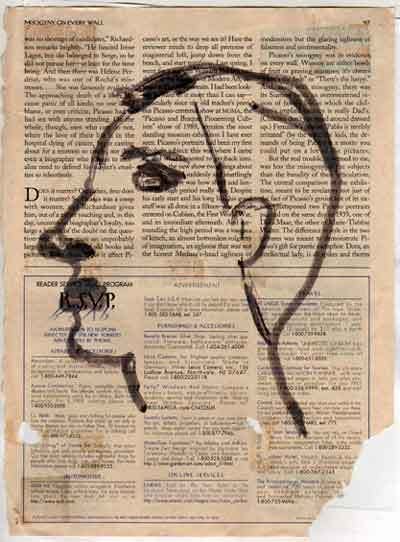 when a felt tip marker dried up, she smashed it open and used the inky insides to execute this portrait of me on a page from the new yorker. the headline (if you can't read it) says "misogyny on every wall" which always alarmed me for some reason. it is one of my favorite portraits. on another occasion, lali drew with chocolate cake.