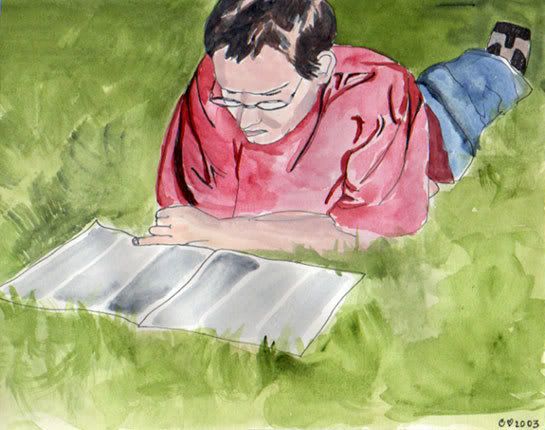 i met my wife four years ago today. i was living in oregon at the time and she lived in los angeles. we discovered each other through our websites and were instant penpals. then the care packages started. and the five hour phone calls. after a couple of months, christine told me that she was going to seattle to see her brother. she suggested a visit while she was in the area. no way, i thought. it's a bad idea. i had such a big crush on her; i was scared that meeting in person would ruin it. "did you ever think that i might be scared too?" she asked. "that's your problem," i said.
she talked me into it though. i had to screw up the courage to let go of our friendship if we had no chemistry in person. she took a train to see me. i vividly remember the wait. when she arrived, it was a little awkward. i asked her what she wanted to do. she told me that she'd been reading the amazing adventures of kavalier & clay on the train. it was just getting good. "do you want to go read?" she had to think about it but, no. we did a dozen other things. the next day, we did go to powell's bookstore. we spent the whole morning in the children's section.
my brother and i moved to california one month later.