this drawing of me and my sister, lali, was drawn by our mom, lauren hughes, during an actual portrait party. we'd been meaning to have one for months but couldn't get the whole family together in one room. my mom was so excited when it happened that she began her first drawing with a note "tonight's the night."
of course, i draw pretty much whenever i get a chance. so, when i caught my mom sleeping in the garage-turned-tv-room, i was excited to draw this picture. i was very worried that she would wake-up or stir. she slept like a crocodile though. only opening an eye now and then to moan in my direction. she woke up a long time later and i surprised her with the drawing.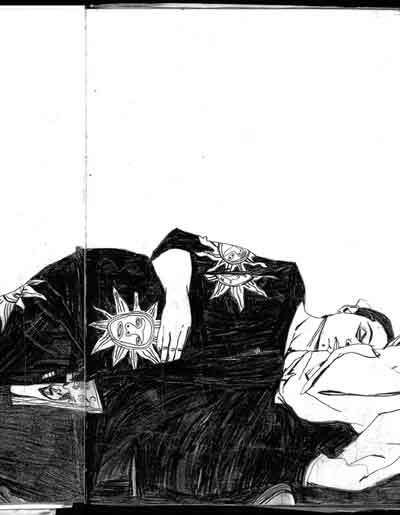 this is only a portion of the actual drawing, by the way. you can see the entire thing by clicking here.